Saj Karsan submits:
I was honored to have been chosen as a judge for CanTech Letter's Canadian Tech Stock of The Year. The company I voted for ended up taking home the top honors. Interestingly enough, it was a value stock when the year began, and saw tremendous price appreciation throughout 2010. Therefore, I did a write-up of the company (reproduced below) identifying its value traits to help us recognize similar situations in existence today: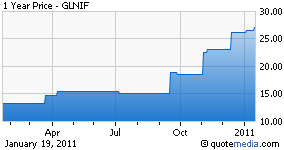 Glentel (GLNIF.PK) has seen its stock rise by approximately 100% in the last 12 months. Usually, stocks that see such sharp price increases have a speculative element to them that precludes long-term investors from participating. But this is not the case for Glentel, a company that traded at a low P/E twelve months ago, and yet generated strong returns on equity; instead, Glentel's stock performance illustrates how value investors can profit from such companies in two ways: earnings growth, and multiple expansion. When these two forces combine, as they did with Glentel over the past year, returns for investors can be phenomenal.
Glentel generates most of its revenue from selling mobile phones and related items through retail stores in shopping malls and other locations. Twelve months ago, the company traded for $150 million despite $30 million of cash, negligible debt, and trailing 12-month earnings of $12 million. Therefore, adjusted for its cash balance, the company traded at a P/E of 10.
Complete Story »
Bianca Kajlich Giulianna Ramirez Ashley Greene April Scott Mia Kirshner