Max Zeledon submits: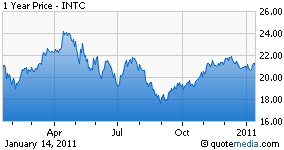 Intel (INTC) reported record Q4 revenue of $11.5 billion and Q4 net income of $3.4 billion, up 48% compared to last year's Q4. For the entire year, the company reported revenue of $43 billion, up 24% from last year. For Q1 of 2011, Intel is expecting revenue to be around $11.5 billion (+/- $400 million). The company is confident the new Sandy Bridge product line will boost sales in 2011. This, of course, is Intel's own forecast and it doesn't reflect potential changes in the economic environment.
But what's the story behind the numbers? Strong IT spending in Q4, which drove demand for chips used in the server market, was one reason behind the stellar performance. This is not surprising given the big push towards cloud computing. Productivity is the name of the game. Corporations are learning to do more with less and this is driving demand for storage services and network infrastructure. It's not good news for those out of work, but when companies cut labor, technology upgrades usually make up for it.
Complete Story »